Sump Pumps
A quality sump pump is truly the heart of any water management system. Our high quality sump pump systems contain the newest, most reliable technology on the market today. These sump pump systems provide the highest level of protection for you and your home by quietly collecting water seepage year after year.
Benefits of a Sump Pump:
Maximizes property valuePrevents water damage to home and furnishings

Reduces infestation of insects

Controls the humidity level and dampness of your basement

Hinders dangerous mold and mildew

Secures the structural integrity of your home

Gives homeowners the option of finishing their basement

Battery powered backup pumps adds twice the protection to your home and its furnishings

The gas-tight sump pump is an essential way to maintain the quality and longevity of your basement water management system. These sump pumps have built-in backup systems, which provides extra protection in case of power failure, storms, burnout or significant increases in water through the system.
Using a high quality sump pump system with your Basement Waterproofing System is a crucial line of defense against water seepage and basement flooding. Insure the value and safety of your home and its furnishing by installing a basement sump pump.
For added protection against basement seepage and flooding, consider the installation of high quality battery operated backup pump. A battery backup pump is an essential line of defense against basement flooding if you are often affected by severe weather or power outages. During a power outage the battery operated backup pump kicks on to continue safely removing basement water seepage and maintains your dry basement.
Our Zoeller 507 Battery Backup Pump (pictured left) is the most reliable technology on the market today! It will continue to effortlessly extract excess water seepage despite a power outage, severe storm or burnout.
Footer Systems:
Drain Main™ System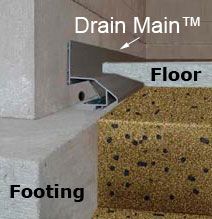 The Drain Main™ System is maintenance FREE! Giving you "piece of mind" and maintaining the value of one of your greatest investments, your home. After installation of the Drain Main™ System you can make your once dark, wet basement into a warm, inviting space for you and your family to enjoy for years to come! Every job is custom-tailored to fit your unique water management needs!
The Drain Main™ design integrates the reliable baseboard style system with the tried-and-true subfloor tile system. The Drain Main™ System is not submerged in soil that can plug the standard subfloor systems. It requires less than 6 inches of concrete floor removal for installation. This proven, stand-alone system is effective in basements with poured wall or block wall foundations. The Drain Main™ is a reliable investment for your home with a proven track record of eliminating basement water seepage.
Below is a diagram of how the Drain Main™ Footer System will work in your basement:
Non-Invasive Systems:
Water X-Tract™ System

The maintenance FREE Water X-Tract™ System will give you a dry, clean basement ready for living, storage and play. The Water X-Tract™ System makes wet basements dry and maximizing the value of your home! There is no digging, no trenching, no jackhammers, and no hauling buckets of mud in and out of your home.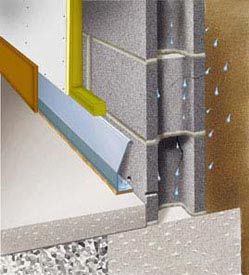 The Water X-Tract™ System corrects the most common source of water seepage, the seam between where the floor and walls meet. Water X-Tract™ System relieves hydrostatic pressure built up in the perimeter of your basement walls from exterior water. There is no need for jackhammers trenching through your basement or hauling mud and gravel into and of your home with this Non-Invasive System.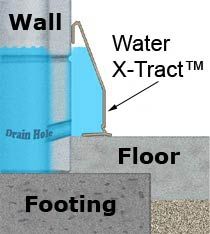 A specially designed sealant permanently adheres the hollow baseboards to the floor along the wall acting as a barrier. The system collects water from the weep holes tapped into the blocks where the floor and wall meet. The water travels along the hollow baseboards to a sump pump leaving your basement clean and dry.
The Water X-Tract™ System is ideal remedy for poured wall or block wall foundations. This system is not submerged in soil that can plug the standard subfloor systems. The Water X-Tract™ System is a Non-Invasive insurance policy that protects the structural integrity of your home and prevents damage to its furnishings. This Non-Invasive System will help control the moisture levels of your basement that can quickly produce mold and mildew.
Hybrid Systems:
Flat-Track™ System
Twin Track Upgrade!

Redundancy gives you twice the protection for a small fraction of the job cost. Ask your sales representative about the Twin Track Upgrade!


The Flat-Track™ System is an ideal remedy to all your water management needs. The Flat-Track™ System will create a warm, inviting space for you and your family to enjoy for years to come! This unique and innovative design collects water from the two primary sources that are responsible for your basement water leakage.
This Hybrid System is an extremely versatile product and can be used to fix a wide range of wet basement waterproofing needs. Flat-Track™ can be installed on top or next to the footer. The Flat-Track™ System uses fine slits to screen dirt and sand from entering the system, unlike other systems that have huge, gapping holes along the sides allowing in everything from rocks to muddy silt into the system.
The innovative umbrella shape of this Hybrid System does not allow dirt and rocks to compact around the openings of the system. The rock and dirt material settles loosely around the system allowing it to continuously redirect water seepage from your basement to your sump pump system. The box design of competitive systems cannot keep rock and dirt from entering its system through the large square holes along outsides of the system. This results in a plug waterproofing system, which will only create great problems for you as a homeowner.
Together the Flat-Track™ and the Drain-Eze™ create a powerful Subfloor System. First, the Drain-Eze™ System creates a 3/8" space between the floor and wall that collects seeping water and channels it across the footing to the Flat-Track™. The Drain-Eze™ collects water entering from where the wall meets the footer and then channels the water into the Flat-Track™ System.
Next, the Flat-Track™ System pulls water from under the concrete slab and directs both sources of water through its main sections towards your sump pump. Flat-Track's™ level channels flow clean and clog-free year after year.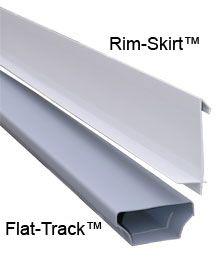 A Footer System is created when the Flat-Track™ is used in combination with the Rim-Skirt™. The multi-faceted profile of the Rim-Skirt™ channels basement wall and window well seepage to the comprehensive Flat-Track™ System placed onto of the footing. The powerful Flat-Track™ System then effortless directs the water into a quiet sump pump.
Service ports are installed along main runs for easy access to the system.
Crawl Space:
VaporBright

"One third to one half of all structures have damp conditions that may encourage development of pollutants such as molds and bacteria, which can cause allergic reactions -- including asthma -- and spread infectious diseases."
Dirt and mud crawl spaces are common in most homes and present unique problems to homeowners. Soil inside the home can produce humidity, odors and radon gases.
Damp, humid crawl spaces are a breeding ground for mold and mildew, which can spread quickly throughout a home. Mold and mildew can cause significant health problems making its existence extremely dangerous. VaporBright™ can controlling the spread of mold and mildew with the latest technology in crawl space encapsulation.
Dirt crawl spaces give rodents and insects an easy entrance into the upper levels of the home. Structural damage to the floorboards, walls, ceilings and carpet can be caused as a result of the dampness and humidity escaping from an open crawl space. VaporBright™ provides the answer to all of these problems instantly!
VaporBright's™ multi-ply nylon weave and polymer laminate design will prevent any odors and gases from entering the home and affecting you and your family. Your home is one of your greatest investments, VaporBright™ can provide the answer to protecting your investment and maximize the value of your home. VaporBright™ is a 10-mil commercial grade vapor barrier used in applications that demand exceptional impact or puncture resistance, in addition to brute tear resistance.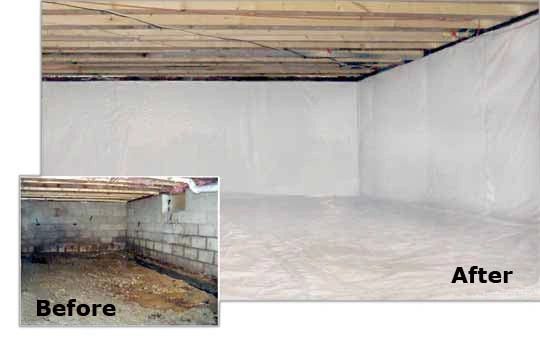 Exterior Water Management:
UnderGround DownSpouts™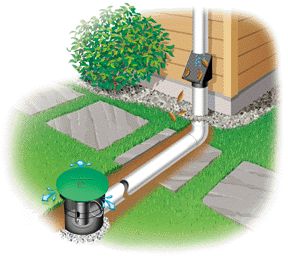 UnderGround DownSpouts™ keep roof water away from your foundation and out of your basement! Roof water, the most common source of a wet basement, is funneled down to the UnderGround DownSpout™ sloping it away from your home and basement.
The first step to waterproofing your basement is to manage your exterior water from the roof line down. If you don't have gutters installed on your home you're asking for a classic wet basement. Install gutters and downspouts wherever necessary around the perimeter of your home.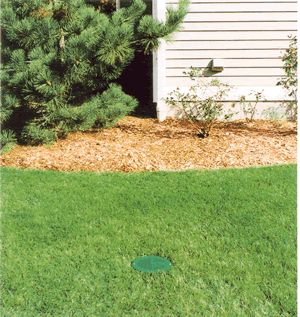 UnderGround DownSpouts™ are a great and inexpensive addition to your home that will increase your house's curb appeal and value of your home. Yard work becomes a breeze with the UnderGround DownSpouts™. This exterior water management system eliminates your unsightly gutters laying across the lawn. No more removing unsightly gutters laying across the yard, you simply mow over the system - no problem!
The debris filter connected to the UnderGround DownSpouts™ effortlessly discards any twigs, leaves and other debris from the gutters. This keeps the UnderGround DownSpout™ working for years and years. No maintenance is needed for this exterior water management system. Once installed - forget about them!